Dive into the K-Pop Universe with K-Pop Photocards from KKANG!

Enjoy our fantastic world of K-Pop photocards at KKANG! As New Zealand's ultimate K-Pop hub, we're proud to offer an incredible range of K-Pop photocards to connect you even more closely with your favourite K-Pop idols. Every photocard is a small window into your idol's world, and we're here to open up as many windows as possible for you.
Collect, Trade, and Cherish with K-Pop Photocard

Are you a dedicated fan eager to expand your collection of K-Pop photocards? Or maybe you're new to the K-Pop world and want to start your own collection? Either way, KKANG has got you covered! With our wide array of K-Pop photo cards featuring all your favourite stars, your collection will soon be the envy of your K-Pop circle.
The Magic of K-Pop Photocards: Closer to Your Idols

Every K-Pop photocard is a tangible piece of the K-Pop world that you can hold in your hands. Each card is a precious memento, a snapshot of a moment, a piece of your idol's journey that you can cherish forever. From solo shots to group photos, behind-the-scenes images to concept pictures, our photocards are sure to captivate every K-Pop fan's heart.
K-Pop Photo Cards: Treasures for Every Fan

Whether you're after the charming visuals of BTS, the captivating beauty of Blackpink, the edgy style of Stray Kids, or the alluring charisma of TWICE, you can find it all in our K-pop photocard collection. We stock K-Pop photo cards from a vast range of bands and artists to cater to all kinds of K-Pop enthusiasts.
Elevate Your K-Pop Experience with K-Pop Trading Cards

Beyond being collectables, K-Pop photo cards are also popular items for trading. Swap K-Pop trading cards with fellow fans to enhance your collection and make new connections within the K-Pop community. Whether it's trading your duplicate cards for those missing from your collection, or helping a fellow fan find their bias, the world of K-Pop trading cards brings fans together in a unique and exciting way.
Authentic K-Pop Photocards for Authentic Fans

At KKANG, we are committed to quality and authenticity. Our K-Pop photocards are sourced directly from official merchandise and album releases, ensuring you receive only genuine items. We understand the value each photocard holds for a fan, and we're dedicated to providing the best for the best - our customers.
KKANG: Your One-Stop Destination for K-Pop Photocards

From the latest releases to classic treasures, our extensive range of K-Pop photo cards offers something for every fan. Begin or expand your collection, trade with fellow fans, or simply own a piece of your idol's journey with KKANG.

Join the vibrant world of K-Pop photocards at KKANG today and enjoy a shopping experience like no other!
What are K-Pop Photocards?

K-Pop photocards are collectable cards featuring K-Pop idols. They typically come as part of an album package or as standalone merchandise. Each card offers fans a personal connection with their idols, featuring unique photographs and sometimes autographs or messages.
What Types of K-pop photocards Does KKANG Offer?

KKANG offers a vast array of K-pop photocard options. Our collection spans from solo artists to popular groups, and includes both group photos and individual member shots. Whether you're a fan of BTS, Blackpink, Stray Kids, TWICE, or any other K-Pop group or artist, you're sure to find their photocards in our collection.
Can I Trade K-Pop Photocards on KKANG?

While KKANG doesn't directly facilitate trades between fans, our K-Pop photocards are perfect for trading. You can purchase from our extensive range of K-Pop photo cards and then swap duplicates or unwanted cards with fellow fans at meetups, online forums, or K-Pop events.
Are All the K-Pop Photo Cards on KKANG Authentic?

Yes, all our K-Pop photocards are authentic. At KKANG, we pride ourselves on providing only official merchandise. Our photocards are sourced directly from album releases and official merchandise, ensuring you receive genuine items.
How Can I Start a K-Pop Photocard Collection?

Starting a K-Pop photocard collection is easy with KKANG! Simply browse our range of K-Pop photocards, choose your favourite artists or groups, and start your collection. Whether you want to collect cards from one group, one member, or a mix of your favourite idols, the choice is yours!
Why Should I Buy K-Pop Trading Cards from KKANG?

KKANG is New Zealand's leading online K-Pop store, offering a wide range of official merchandise, including an extensive selection of K-Pop trading cards. We're dedicated to delivering a seamless shopping experience, with quality products, competitive prices, and excellent customer service.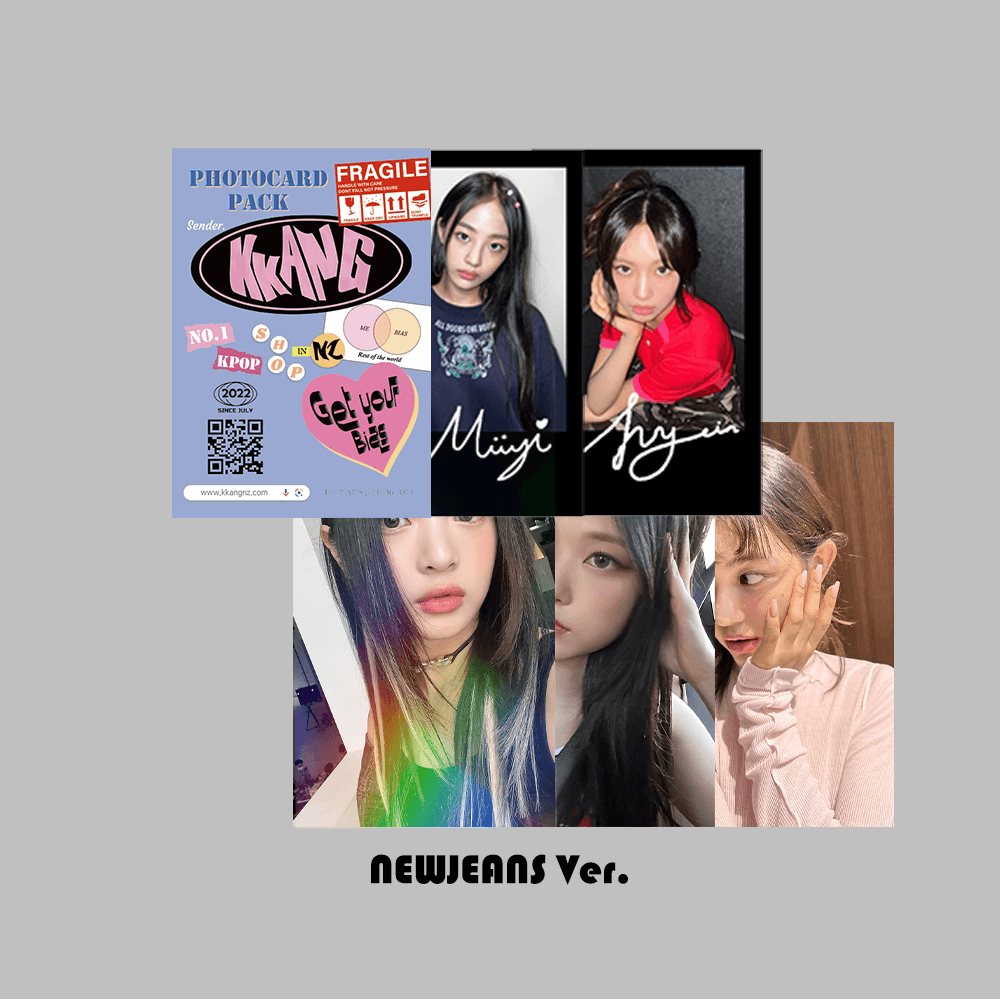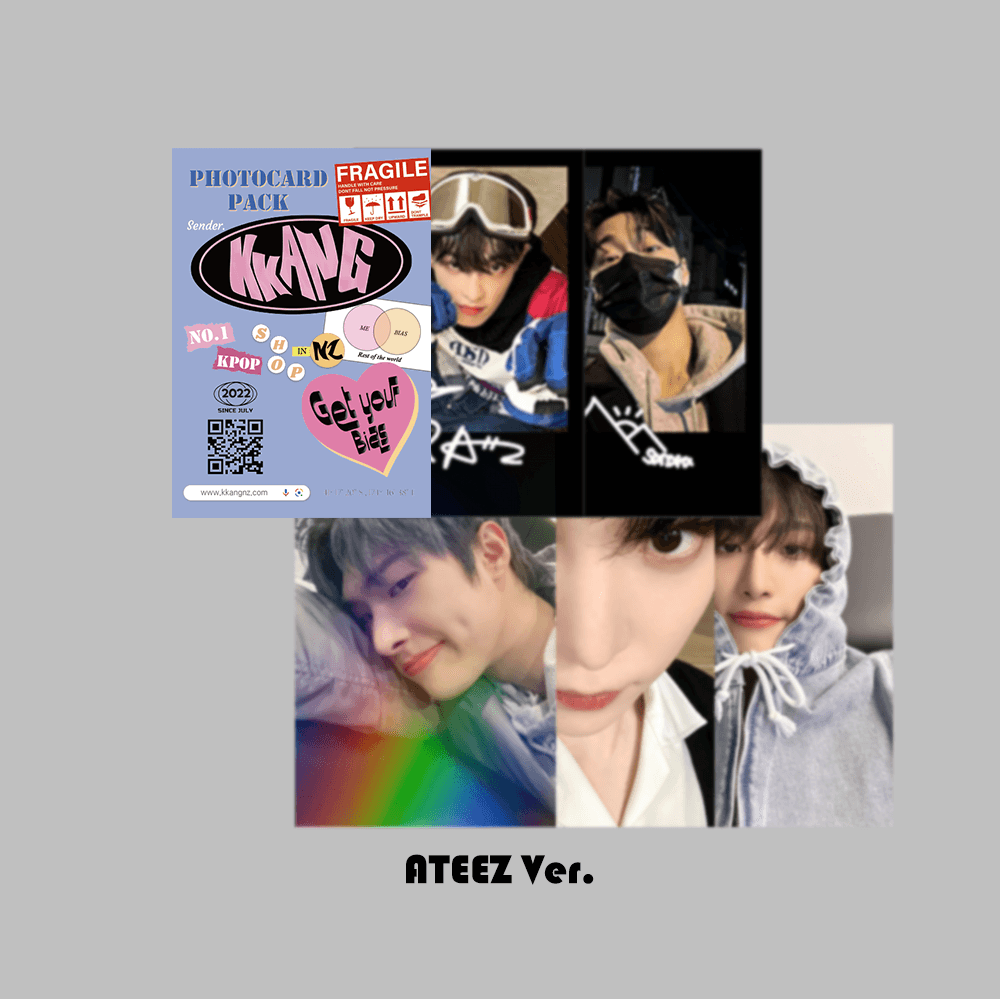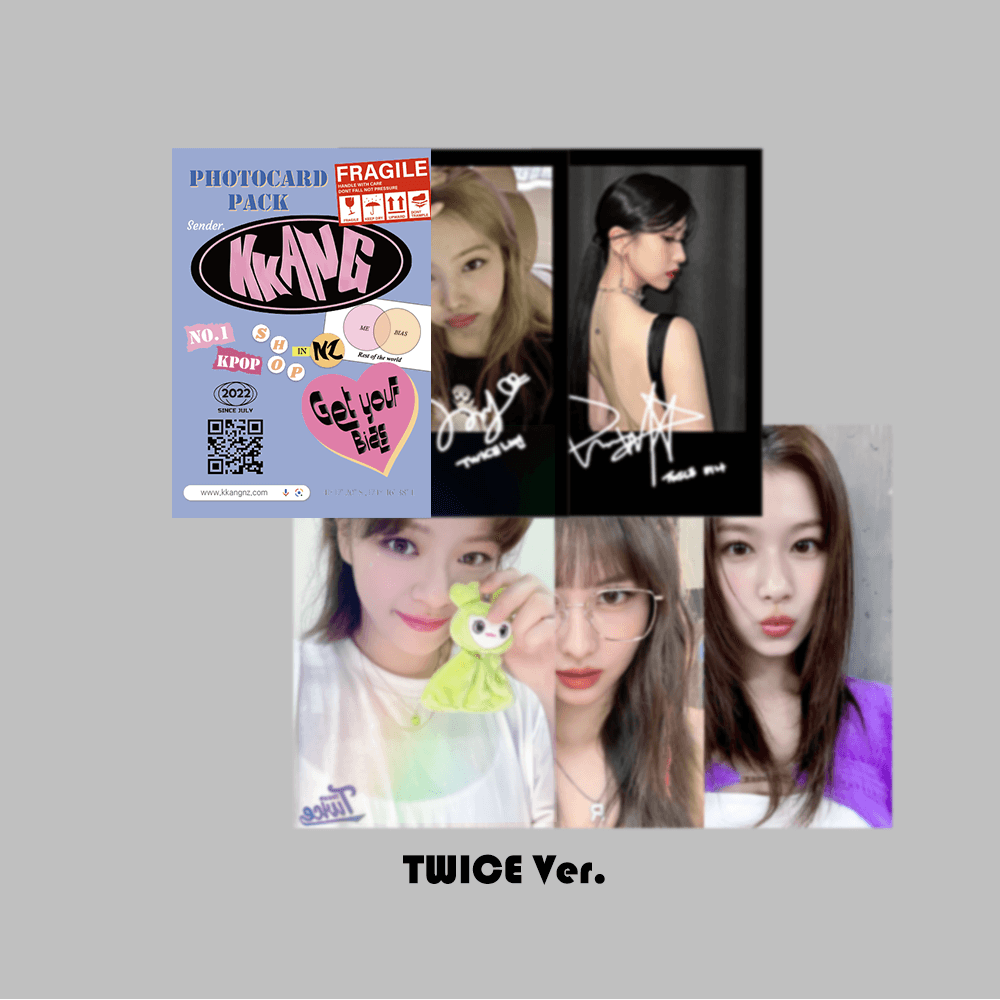 ---
Selfie Photocard (3EA) + Printed Signed Polaroids (2EA)
2.0 ver:  Selfie Photocards (2EA) + Hologram Selfie Photocard (1EA) Printed Signed Polaroids (2EA)
All versions will be updated 2.0 sequentially.
This product is unofficial, fanmade product. Photocards/Polaroid shown on the image is an example.
Freebies are not provided with this product. Provided totally random, you can get duplicates. (We also don't know what's in there)
Estimated delivery: 2~4 days after shipped out